Off-Shore Tool Building and U.S. Molding Process
For over twenty years American Precision Products has been sourcing tooling in China and molding parts in the U.S.A.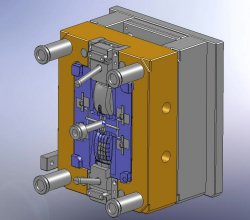 The complete process typically takes 11-16 weeks to have tooling approved and ready to run in our factory. Part complexity, design changes, part approval schedules can all play factors in delivery.
First samples for customer inspection typically happen in weeks 7-9.
If the part requires texture or high polishing it is done after the first approval and samples are re-submitted. Once the parts are approved we typically make a small run in China in order to cover the shipping time to the U.S. This also gives the tool a break-in period in which to identify any other possible issues.
All tooling is built with certified tool steels. We guarantee your tooling for the life quoted.
The last step: the tool is flown or shipped by sea to our factory where we mold your parts.
Constant schedule updates keep you informed and advised of any changes.
Tool Build Time Line
Week: 1
2
3
4
5
6
7
8
9
10
11
12
13
14
15
16
I: Final 2D & 3D Drawings submitted
II: Tooling Design
III: Tooling Approval
IV: Tool Build
V: Samples Molded and submitted for approval
VI: Tool Rework if required
VII: Tool final polish or texture and resample (step V)
VIII: Final Approval
IX:First Run in China
Xa: Ship tool by Air
Xb: Ship Tool by sea