Design and Design for Manufacturing
Designs that Succeed
Plastic design services since 1975 for plastic molding and mold building services. From material selection through process evaluation, prototyping and agency approvals we find the most practical design and process methods that ensure your product is successful and cost effective.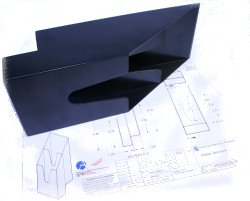 Starting from scratch or economizing an existing design, we use our extensive manufacturing knowledge in order to find and explore the best solutions that meet the design requirements.
Product Design
On Line Project Management
Reverse Engineering
Design for Manufacturing
Off-Shore Engineering Services
Dimensioning & Tolerancing
Prototyping
3-D & 2-D CAD
Design Services
We can help you optimize your design for injection molded parts, often as a free service, or provide complete design services at a reasonable cost.
Proper plastic molding design assures your product's success at meeting your design goals. Our design services cover all our molding processes: injection, compression, transfer and vacuum molding. Lowering costs of final molded parts and tooling as well as the long term costs of a product is always are first goal.
Getting your product to market quickly and right the first time requires an extensive knowledge of plastics and plastic design. Our strong leadership team has the knowledge and experience your product requires. They will work with your engineers and product designers to meet your goals no matter how demanding.
Because we have a wide range of processes we can design your product in the correct process and not limit your design considerations.
Injection Molding Design Services
Injection molded parts must be designed to function properly and meet tolerance requirements. Because we build tooling and mold the parts we can put all our experience towards creating the optimum design package for your product. Lowering costs, maximizing physical properties are just some of the ways we can help you succeed. Injection molded parts are ideal for complex features and tight tolerance designs while keeping per unit costs low.
Thermoset Design Services
When your products need to survive under high temperature requirements, high strength or needs electrical insulation, thermoset materials may be the optimum answer. We can design thermosets for injection, compression or transfer molding and include molded in and encapsulated components.
Rubber Design Services
We can design rubber products for injection, transfer or compression molding of rubber products and a overmolding and encapsulation is our specialty. We have experience with a wide range of rubber materials utilized in the aerospace and military markets.
Reverse Engineering
If you have an existing obsolete part we can reverse engineer from your sample, matching materials and performance. Reverse engineering of connectors is one of our core strengths.
Short and Mid Volume Production
For short run production we can design your product and tooling to keep costs low and quality high. Our prototype tooling department and molding equipment can help you get parts quickly with repeatable quality and properties.
Our mid volume production capabilities mean your product can be made affordably with the correct quality of tooling to meet your production requirements. Our designs mitigate down time and product discrepancies.
Product design to meet all your needs.