Molding Design and Tooling
American Precision Products has a complete mold manufacturing facility furnished with the latest solid modeling software, CAD, CAM, and CNC equipm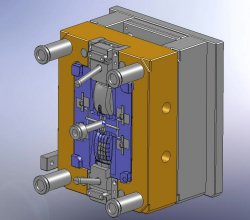 ent. We believe that mold quality determines part quality and have been active in the design and construction of molds since our start.
Mold Construction
American Precision Products uses a variety of techniques to reduce the tool cost and lead times. One cost saving technique includes the use of standard unit inserts by Master Unit Die (MUD) and RoundMate. Stand alone or free stand tools are always an option.
No Geometry Limits
Offshore Tooling
Our offshore tooling process insures high quality, on time delivery and save 30-50% on tooling costs verses other sources. We guarantee your tooling to meet all specifications. Tools are built to US standards and specifications. All tools, unless otherwise requested, are exportable.
Importing tooling since 1998 means your tool production runs smoothly and professionally.
Design and Build tooling in-house or overseas.